INSPECTION EQUIPMENTS :
Universal Length measuring instrument (TRIMOS Swiss Make) 0-200 mm Accuracy 0.0001
OCTAGON : Universal Metroscope with Range 0 – 300 mm L.C. 0.0001 mm
ACCURATE : Floating carriage Diameter measuring machine.With L.C. 0.0002 mm with Digital Fudicial Indicator
SUPREME : Floating Carriage Diameter Measuring Machine with L.C. 0.001 mm with SILVAC Digital Dial Indicator.
MITOYO : Profile projector with Digital Display facility Magnification 10 X and 50 X Traceable to NPL DELHI.
F.I.E. : Hardness Tester
TESPA : Electronic comparitor with TESA's Probe (Swiss) Digital dial having L C 0.0001 mm
GENERAL: Equipments like slip gauges set, Bore dial gauges set, External micrometer set, Internal Micrometer & Many other Insp. Equipments.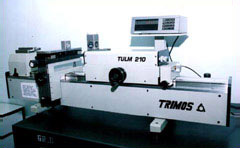 ---
Manufacturing Facilities :
MATRIX 46 :UNIVERSAL THREAD GRINDING MACHINE
Range-60 TPI to 12" PITCH
TAPER DIAMETER 1:12
MATRIX 24 : Internal Thread Grinding Machine
Range – 18 mm to 220 mm
Pitch 0.5 to 4 mm
MATRIX 16 THREAD : Diameter 1 to 180 mm,
GRINDING MACHINES Taper on diameter 1:8
HERBERT LINDER :Universal Thread Grinding Machine.
THREAD GRINDING Internal Range 20-250mm Germany make) MACHINES
HI-LIFE : Universal Grinding Machine External Range
0-250 mm & Internal Range 10-250 mm .
H.M.T.: K-130 Universal Grinding Machines
JOHN SHIPMAN : Surface Grinding Machine Bed Size